Whether you are celebrating at home or with friends & family, these 4th of July themed crafts are sure to add a POP of fun to your day. These crafts are family-friendly and simple enough for the kids to get involved. Make ahead of time if you are prepping for an event or on the day-of for some fun family time.
#1 Fourth of July Jell-o Cake 
Looking for a sweet summer treat for your 4th party? This Jell-o cake is beautiful and (we hate to say it) super moist. Just be sure to make it the night before.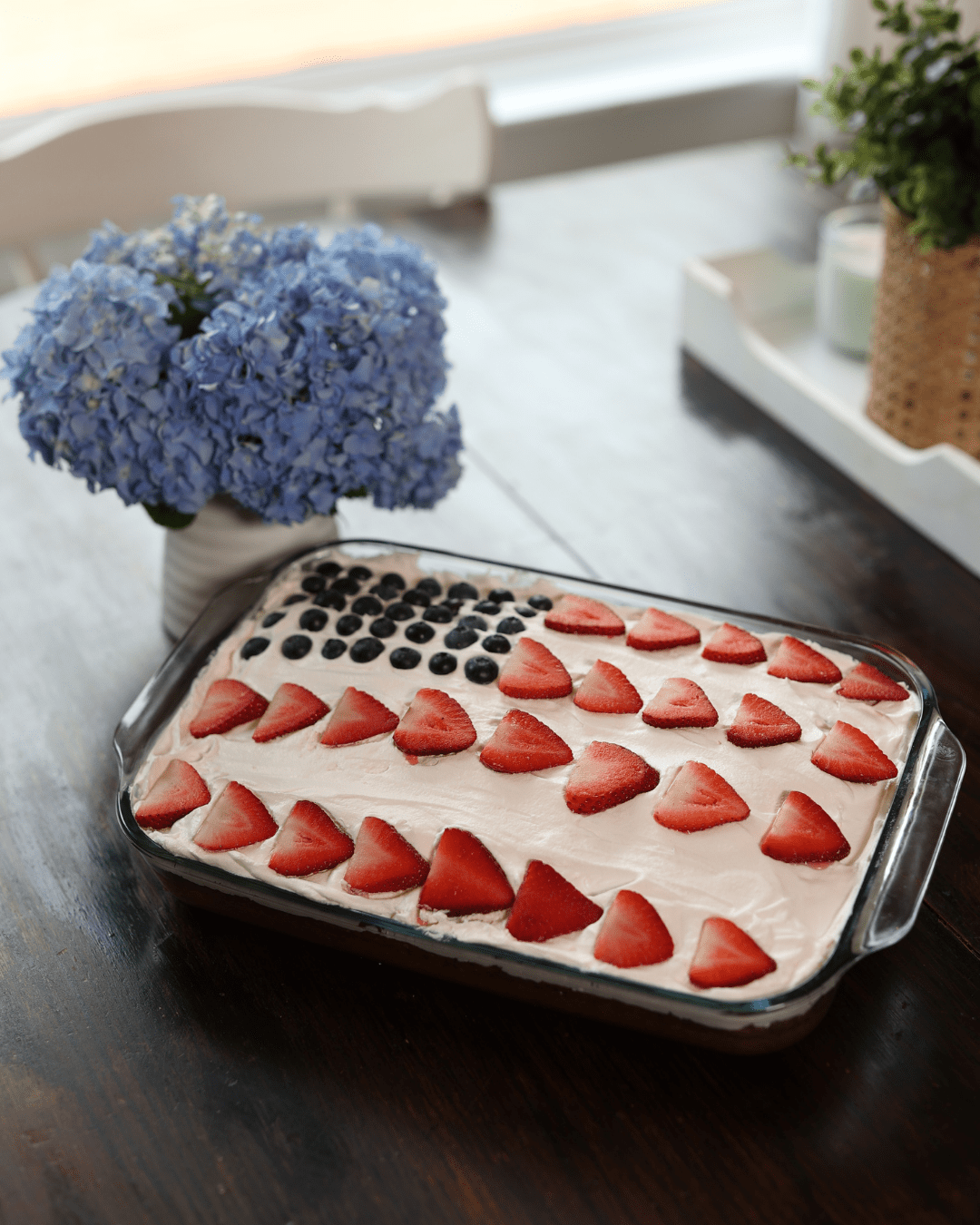 White cake mix
Red and blue Jell-o
Cool Whip
Strawberries
Blueberries
Directions
Make white cake according to box instructions.
Use a fork to make indentations all over the cake.
Make red Jell-o according to package and pour in stripe pattern over cake. Repeat process with blue Jell-o.
Leave cake in the fridge for four hours to overnight.
Cover with whipped cream and use blueberries and strawberries to make a flag pattern on top of the cake.
#2 Firecracker Tie Dye 
This red, white, and blue striped tie-dye design is perfect for the whole family to wear. You can be creative with items you want to dye – shoes, dresses, beach towels, and don't forget a matching bandana for the dog!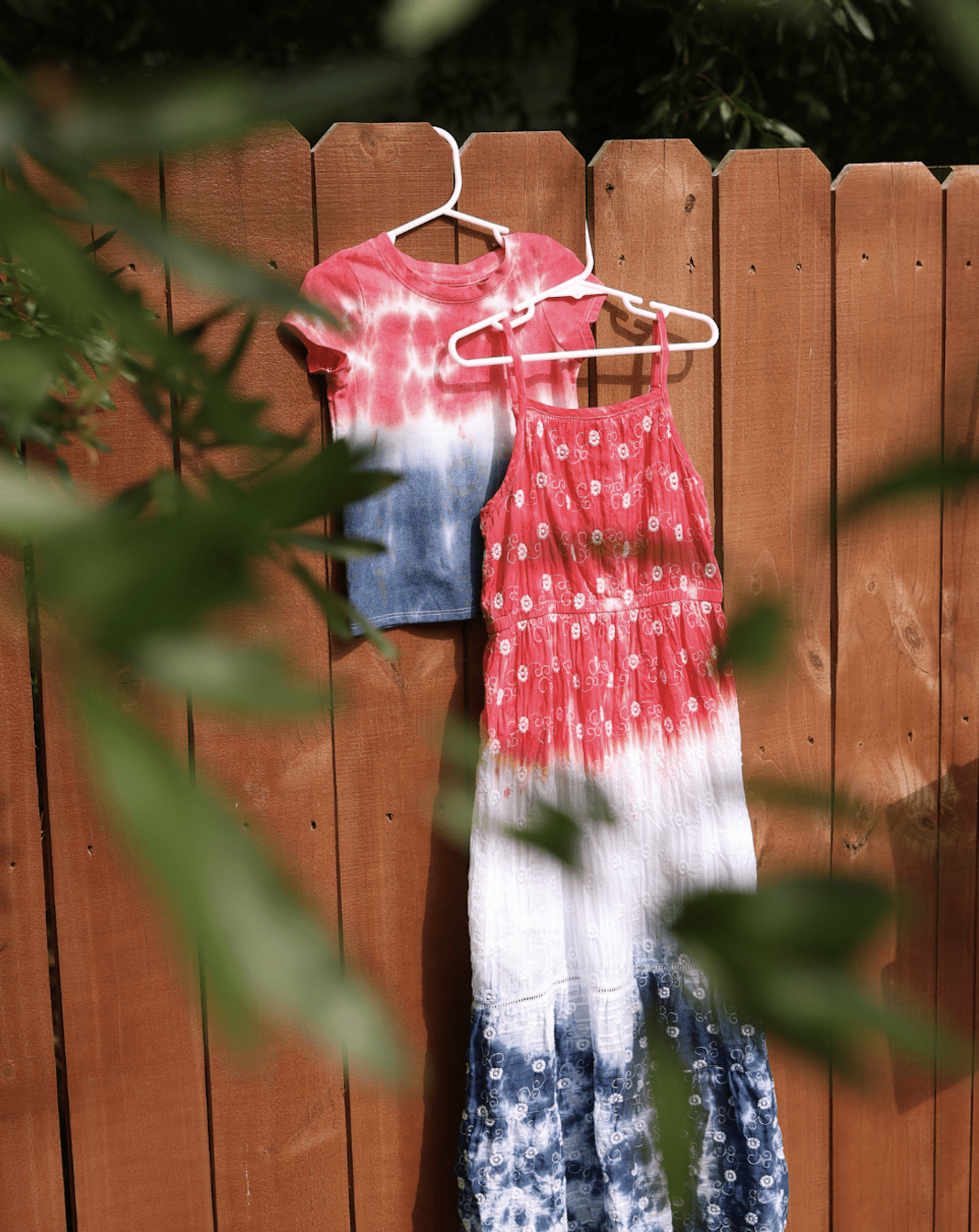 Materials you want to dye 

Trash bags to lay project on

Rubber bands

Red dye in a squirt bottle

Blue dye in a squirt bottle 

Plastic bags to wrap project in 

Disposable Gloves 
Directions
Scrunch damp material into a tube shape and wrap a rubber band around the item about a third of the way down from the top. Repeat with a rubber band on the bottom third.

Add red dye to the top third of the item above the rubber band. It's okay if some bleeds a bit past the rubber band. 

Add blue dye onto the bottom third of the item below the rubber band. It's okay if some bleeds a bit past the rubber band. 

Wrap the red end of the item in a plastic bag, and wrap the blue end in another plastic bag.  Let sit for 2-24 hours (the longer the better). 

Remove plastic bags and rubber bands. Wash and dry according to dye directions. 
#3 Confetti Poppers
These confetti poppers are a fun alternative to fireworks or sparklers. Safe for little ones and noise-free (your pet will thank you!). Have the kids help decorate or pre-make ahead of time for your 4th of July party.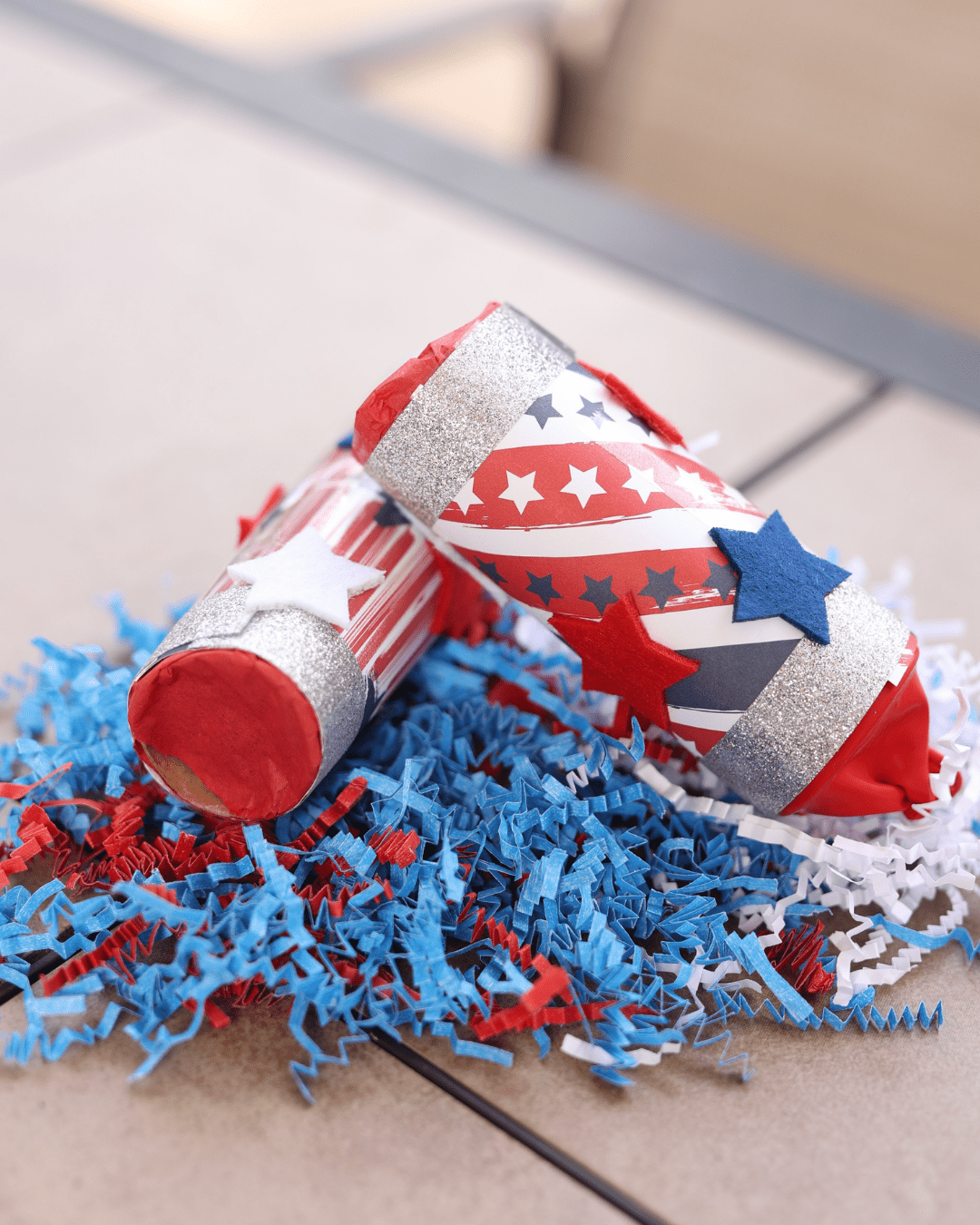 9″ Balloons (red, white, or blue)

Empty Toilet Paper Tubes

Packing Tape

Red, white, or blue tissue paper

Red, white, and blue decorations such as patterned paper, stickers, glitter, etc.

Red, white, and blue confetti – we suggest cutting up paper gift bag filler that can easily decompose 

Hot glue gun and glue sticks

Scissors 
Directions
Knot a balloon and cut off the top tip. Stretch the cut end of the balloon around the end of a toilet paper tube. Secure in place with the packing tape.

Make about 3 tablespoons of confetti for each tube and add to the tube. Be sure to keep it loosely packed in the tube. 

Cut a small piece of tissue paper and place it over the open end of the tube. Tape the tissue paper down around the tube using packing tape. This will keep the confetti from spilling out until you are ready to pop it. 

Use patterned paper, stickers, markers, glitter, etc. to decorate the tubes. 

When you are ready to pop, punch a hole in the tissue paper and then pull down on the bottom of the balloon and let go! 
#4 American Flag Ribbon Wand
This red, white, and blue ribbon wand would be so cute to wave at your local July 4th parade or to use as an addition to your table centerpiece. To add a nice pop to the flag, we used sparkly blue ribbon from our local craft store.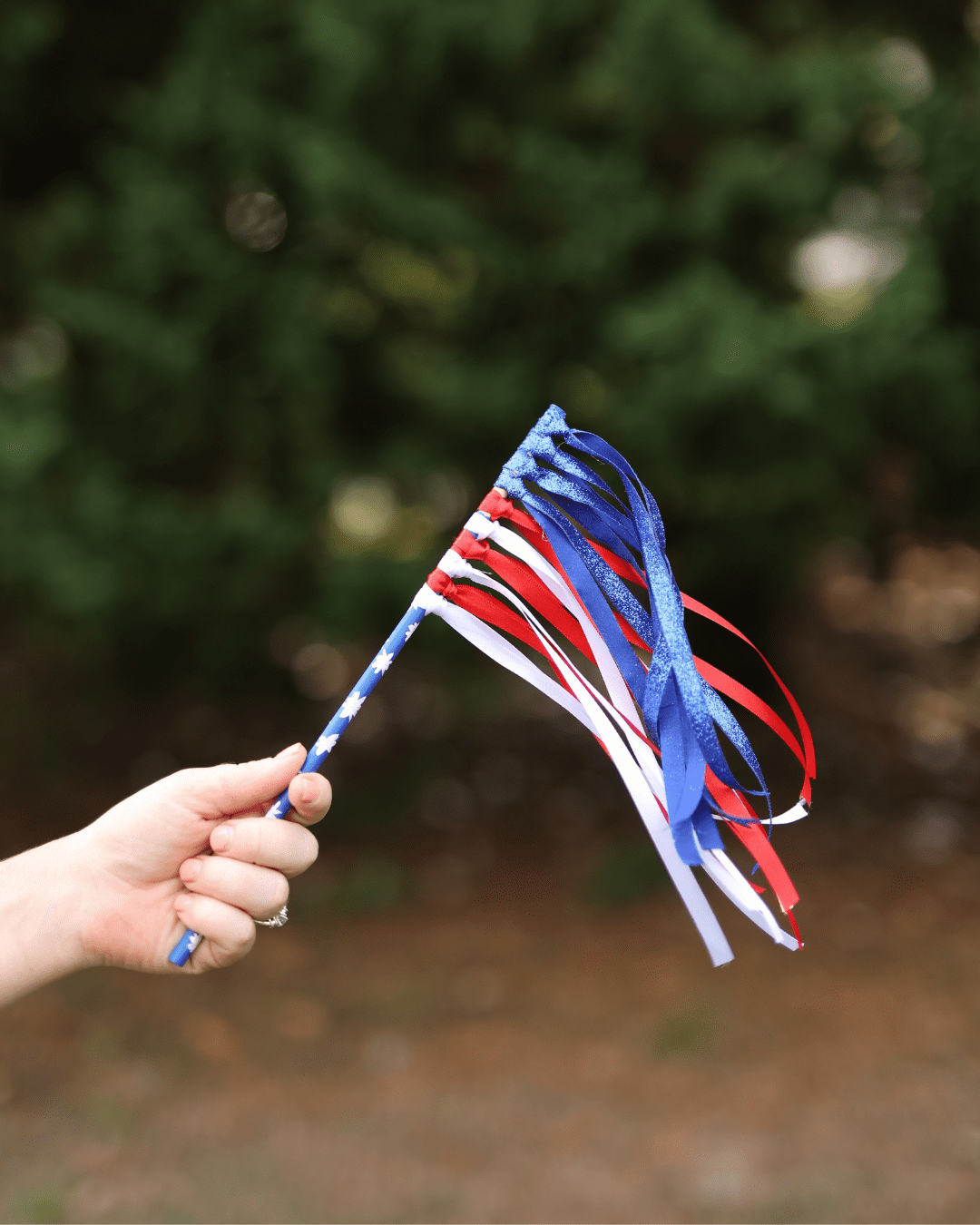 12" wooden dowels 

Blue acrylic paint 

White acrylic paint 

Satin ribbon: 2 blue, 2 red, and 2 white

Small tip paint brushes 

Something to hold dowels upright such as a piece of styrofoam or a cup filled with rocks

Scissors 

Hot glue gun and glue sticks 

Yard stick or measuring tape 
Directions
Paint 3/4 of the wooden dowel blue. Place the dowel in a piece of styrofoam to dry. 

Once blue paint is dry, use the white paint to paint stars all around the blue painted area. Place the dowel in a piece of styrofoam to dry. 

Cut each color of ribbon into strips about 20" long. 

Once dowels are dry, fold a blue ribbon in half and place the looped side under the end of the wand that doesn't have paint. Thread the open ends of the blue ribbon through the loop and pull through. Attach about 5 rows of blue ribbon. 

Below the rows of blue ribbons, alternate between red and white ribbons – about 6 rows altogether. 

Tighten all of the knots and use the hot glue gun to put a drop of glue at the knotted end of each ribbon to hold it in place on the dowel. 
What are you doing for the 4th of July? Would you make any of these crafts? Let us know over on Facebook!